Funny Creatures
Developer:

Astatix Games


Price:

$9.97

$8.97

- Save $1.00!
Discount:

10%
File Size: 1.3 Mb
Help Funny Creatures to solve original puzzles in the maze. In this puzzle game you should move colored creatures in the maze. To win you should follow each creature to its home. But it is not very easy to control the creatures because they can move only in a straight line and can not stop until collision with the wall or another creature. Game includes many interesting puzzles. Some puzzles are easy but others are more difficult.
Buy the full version of Funny Creatures
-
10% OFF
Free download Funny Creatures
1.3 Mb
Screenshots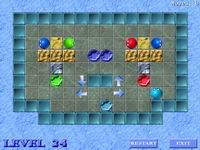 We offer the best discounts for Funny Creatures software. You can buy Funny Creatures with 10% discount and save $1.00 on your purchase. No coupon code needed, just use the link at this page to get the best price. Also we can offer coupons and discounts for other software from Astatix Games.