Dragon Jumper
Developer:

Astatix Games


Price:

$6.96

$6.26

- Save $0.70!
Discount:

10%
File Size: 1 Mb
Little dragon lives in a magic lake. The lake is dangerous, but our little dragon loves diamonds. He is good at jumping and whenever Dragon sees a sparkling thing somewhere in the lake he immediately starts jumping from one spot of ground to another, just to get it. The jumps on the lily pads require a lot of energy; therefore Dragon should eat at every turn. Evil monsters want to catch and eat him.
Buy the full version of Dragon Jumper
-
10% OFF
Free download Dragon Jumper
1 Mb
Screenshots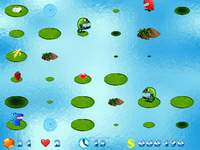 We offer the best discounts for Dragon Jumper software. You can buy Dragon Jumper with 10% discount and save $0.70 on your purchase. No coupon code needed, just use the link at this page to get the best price. Also we can offer coupons and discounts for other software from Astatix Games.