Crazy Minesweeper
Developer:

Astatix Games


Price:

$9.97

$8.97

- Save $1.00!
Discount:

10%
File Size: 0.5 Mb
If you a Minesweeper fan then you have got to check out Crazy Minesweeper - modern remake of the classic minesweeper based on original idea.

Game includes two modes: Classic and Crazy. Crazy mode is a brand-new game with original rules; in this mode mines have different power from 1 to 3. There are many improvements and modifications in this game.

It is a unique minesweeper clone with large best players table, playing statistics and many useful settings and features.
Buy the full version of Crazy Minesweeper
-
10% OFF
Free download Crazy Minesweeper
0.5 Mb
Screenshots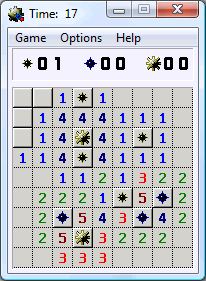 We offer the best discounts for Crazy Minesweeper software. You can buy Crazy Minesweeper with 10% discount and save $1.00 on your purchase. No coupon code needed, just use the link at this page to get the best price. Also we can offer coupons and discounts for other software from Astatix Games.