Conquest
Developer:

Sean O'Connor's Windows Games


Price:

$20.00

$17.00

- Save $3.00!
Discount:

15%
File Size: 1 Mb
Conquest is a board game for Windows PCs. You fight against up to 7 computer or human controlled opponents to take over the world before you are eliminated by your enemies. Each computer opponent has their own personality which you can customize. The Artificial Intelligence of the computer opponents is particularly strong and you'll have to fight hard to beat them!

It's very easy to design your own maps and there are now over 350 different maps which you can download for free.

The latest version of Conquest for Windows allows you to play network games online and there is a built-in lobby system to find opponents on the Internet where games are continuously being played.
Buy the full version of Conquest
-
15% OFF
Free download Conquest
1 Mb
Screenshots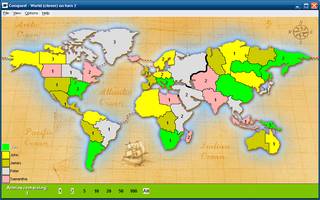 We offer the best discounts for Conquest software. You can buy Conquest with 15% discount and save $3.00 on your purchase. No coupon code needed, just use the link at this page to get the best price. Also we can offer coupons and discounts for other software from Sean O'Connor's Windows Games.